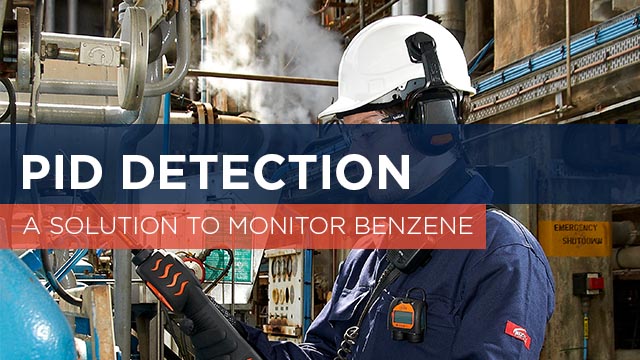 Benzene
12 February 2018
PID Detection: An Ideal Solution to Monitor Benzene
The photoionisation detector (PID) has proven to be an ideal solution to monitor benzene within the environment. But there are several considerations that must be borne in mind when choosing an instrument.
PID theory of operation
Figure 1 is a schematic of a typical PID sensor system. A UV lamp generates high- energy photons, which pass through the lamp window and a mesh electrode into the sensor chamber. Sample gas is pumped over the sensor and about 1% of it di uses through a porous membrane lter into the other side of the sensor chamber. The inset on the 'lower right' of gure 1 shows what happens on a molecular level. When a photon with enough energy strikes a molecule M, an electron (e-) is ejected. M+ ion travels to the cathode and the electron travels to the anode, resulting in a current proportional to the gas concentration. The electrical current is ampli ed and displayed as a ppm (or part per billion (ppb)) concentration. Not all molecules can be ionized, thus, the major components of clean air, i.e., nitrogen, oxygen, carbon dioxide, argon, etc., do not cause a response, but most VOCs do give a response.